With only two weeks to go before the end of the course, we are now focusing in on how to get things done, how to assess what works and what to do when things go wrong. According to the old adage of Murphy's Law "what can go wrong, will go wrong" and this is true of most projects. Without proper planning and consideration, there will usually be something unexpected that crops up and threatens the success of the project.
Technology Enhanced Learning (TEL) interventions are inherently unpredictable because of the combustible mix of people, computers, and the complex contingencies that run through all teaching and learning activities. You can't lock things down and force them to stick to the plan, but you can plan and be prepared for the different ways in which things can change.
This week we'll continue the focus of recent activities on learning by applying ideas to the specifics of your situation.
This week's aims
We aim to help you tackle:
How to identify potential issues for my TEL project or course?
What steps can be taken to ensure my project or course doesn't fail?
And here are the learning outcomes we hope you will get out of it
be able to identify common reasons why projects fail;
appreciate the importance of the planning in the project management cycle;
understand the importance of Risk Assessment and be able to carry out a Risk Analysis.
review your own experiences in order to identify how to predict issues and take steps to mitigate them.
If you only do one thing… find out why things go wrong
Let's examine why projects fail. Please read Tom Cochrane's 2012 conference paper on failures in mobile learning projects. It identifies six critical success factors for the mobile web 2.0 implementation and reviews the effectiveness of three mobile learning projects. The paper also identifies the key successes and failures for each of the projects. 
Now, think about a project you have been involved with or have experience of, write down a bulleted list of points relating to the "key successes" and "key failures" of the project.
Share your thoughts on your blog or via Twitter (using #ocTEL tag), on this forum topic, or via the JiscMail list.
Come and join the live webinar
In this week's webinar we have two presenters from Imperial College London who will discuss their experiences of project management. Julie Voce will introduce a two-year institution-wide project to review and implement the new College virtual learning environment. Lisa Carrier will give an overview of a three-year Department of Medicine project to create and evaluate a blended multidisciplinary postgraduate programme. Both presentations will introduce the projects and the methodologies used and discuss topics covered during week 9 such as planning, risk assessment, key successes and failures, and lessons learned.
The webinar runs from 12:30 to 13:30 British Summer Time on Wednesday 12 June. You can access it from 12 noon onwards via this link.
Presenters
Julie Voce is the E-learning Services Manager at Imperial College London. Prior to this she was the Learning Technologies Support Co-ordinator at UCL and a Research Assistant in Computer Assisted Language Learning at UMIST. For ALT, Julie is involved with ALT's Online Newsletter, the ocTEL MOOC and was Co-Chair of the 2012 ALT conference. In addition she is Chair of the UCISA Academic Support Group and is involved in the biennial Technology Enhanced Learning survey. Alongside her role at Imperial, she is in the second year of a PhD in Technology Enhanced Learning and E-Research at Lancaster University.
Lisa Carrier's background is in psychology, pedagogy and management. Lisa has extensive teaching experience in Further and Higher Education, and in the last 8 years she has been involved in designing and promoting e-learning best practice in HE. In her current role as e-Learning Manager at Imperial College London, Lisa helps academic and clinical professionals design postgraduate blended curriculum. She has managed a number of projects in Postgraduate Medicine, which have become showcases for innovative education, and received awards for enhancing student experience. Lisa is a qualified coach and an experienced manager, with specific interest in change management and organisational learning.
Activities for this week
Activity 9.1: Risk assessment
(up to 1 hour)
Please watch this 4-minute Dilbert parody video on why projects fail.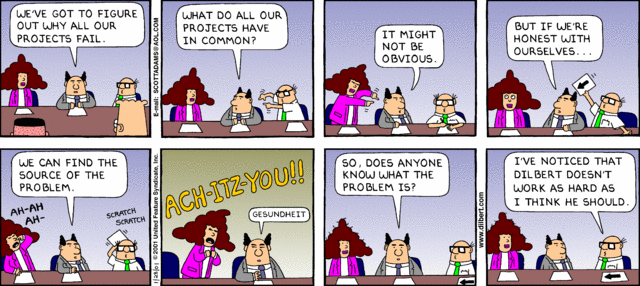 [Source: dilbert.com copyright © 2001, used under licence] 
Reflecting on the "key failures" that you identified for your project in the first activity, think about what could have been done in advance to mitigate the failures. Were there any other issues that affected the project but were perhaps not "key failures"?
Jisc recommends project managers complete a Risk Log (or Risk Register) to identify issues that might affect the success of the project and to look for early warning signs that indicate an issue is about to occur. The Risk Log  provides a means of recording the identified risks. It should be reviewed at regular points during the project as some risks might disappear and others might manifest.
Look at the headings of a Risk Log below and consider how would you complete one using your previous project example. Make some notes under each heading on your blog, or via Twitter (using #ocTEL tag), on this forum topic, or via the JiscMail list. (Jisc Infonet provides guidance on how to complete the Risk Log.)
Category — e.g. skills, staffing, management, resources

Risk — presented in a structured format

Condition — 'There is a risk that…'
Cause — 'Caused by…'
Consequence — 'Resulting in…'

Likelihood — What is the likelihood/ probability of the risk occurring?e.g. using a scale of 1-5, where 1 is Very Low and 5 is Very High
Impact — What will the impact be if the risk occurs? e.g. using a similar scale as Likelihood
RAG Status — RAG (Red, Amber, Green) status, based on the product of the probability and impact
Risk Management Approach/Mitigating Actions — What are the agreed response actions?
Early Warning Signs — What 'trigger' might alert you to the fact that the risk is about to occur?
Activity 9.2: Planning
(up to 1 hour)
Planning is an essential part of the project lifecycle to ensure a successful outcome. It is often tempting to just jump in feet first, especially on a small scale project, but starting a project with no firm plan of action is likely to jeopardise the whole process.
Have a look at Jisc's Project Management guidance. Please describe the methodology you have used for one of your projects (ideally the same example as in the other activities this week) including:
What steps did you take?
Who were your stakeholders?
What resources were used?
Now reflect – on your blog or via Twitter (using #ocTEL tag), on this forum topic, or via the JiscMail list – on what could have been done better in the planning stages to improve the project outcomes. Think about what tools and techniques were used to assist with planning and their effectiveness.
Activity 9.3: Develop your own case study
(up to 1 hour)
Combine the outputs from the previous activities in order to create a case study about your project. Your case study should include:
Description of the project
Methodology (taken from Activity 9.2)
Key successes and failures (taken from the first activity)
What you would do differently if you had to do it again. (perhaps reflect on the mitigating steps you identified in Activity 9.1).
Share a link to your case study on your blog or via Twitter (using #ocTEL tag), on this forum topic, or via the JiscMail list.
The activities in Week 10 encourage you to revisit your case study again, but for now please publish it. Read the case studies produced by other course members.
Checklist
Find out why things go wrong and post your views #ocTEL
Get the final ocTEL webinar in you diary, 12:30 on Thursday 20 June – a chance to reflect, and also celebrate the end of the course a little
Join the live webinar at 12:30 on Wednesday 12 June
What's coming up next?
The last week of ocTEL, on Evaluation and reflection, will run from 17 June – 21 June.
During this week we will not only be running the course as normal, but we are also going to ask you for feedback on the course and how we can do things better next time.
Resources and more to watch, read and research
The Jisc Project Management Infokit has extensive and relevant coverage of how to manage risks.
The following case studies may also be useful:
Notes and commentary
According to the old adage of Murphy's Law "what can go wrong, will go wrong" and this is true of most projects. Without proper planning and consideration, there will usually be something unexpected that crops up and threatens the success of the project. Famous examples include:
the London Millennium bridge – nicknamed the "wobbly" bridge after the project team failed to identify resonance caused by people walking in step across the bridge.
the UK National Health Service IT project to create a patient record system which was scrapped due to technical delays, rising costs and contractual issues.
the Year 2000 bug which affected computer systems worldwide which had not been designed to consider the switchover between 1999 and 2000.
Of course, you're unlikely to be dealing with such high profile, large scale projects, but there are also plenty of TEL-related examples.
There's the story about the academic who built his VLE course, emailed the students to tell them it was there and then wondered why no one was logging in. It turned out he had emailed the students using the VLE's internal mail tool and so they hadn't received the message. A simple mistake that was easily rectified, but one that could have been avoided.
On a larger scale, the Bloomsbury Colleges consortium (comprising five HE institutions in London) embarked on a collaborative iTunes U site and were mid-way through an externally project when a senior representative from Apple said that a collaborative site couldn't be done. This spelled doom for the project; however a bit of creative thinking re-worked the aims of the project and helped develop a solution which put the project back on the road to success (see more details).
A key component of any project, no matter how big or small, is to identify what might go wrong and the steps needed to avoid problems. Looking at other, completed projects is a good way to consider what might go wrong in your own.
In this module you will reflect on your own experiences and those of others with regard to projects that have been successful and not as successful. You will finish the module by putting together a case study of a project you have been involved with, and publishing this for others to read and reflect on. In the context of this module, a project could be the implementation of an online module/course or an institution-wide review or rollout of a new TEL system.