What influenced participants level of engagement in ocTEL?
June 19, 2014 in Course Information
The previous post comparing the activity level in ocTEL generated some interesting responses a number highlighting that whilst not visibly active on the ocTEL the had benefited from peripheral participation.
@mhawksey it has been 🙂 might write a semi-lurker's blogpost reflecting in #octel to help make my learning more explicit, show appreciation

— Maha Bali (@Bali_Maha) June 19, 2014
This type of auditing role is common in courses like ocTEL. One of the questions we posed participants in the mid course survey was what influenced their level of engagement. A summary of the responses (n. 42) shown below indicates, not surprisingly, that time is a factor in level of engagement. Interestingly for us as a course team, and the Association, is the indication that digital badging had such a positive influence on engagement. In some ways it is perhaps not surprising that this type of gamification managed to hook some people.  Another question raised internally was the apparent lack of influence tutor support had on ocTEL participants to engage. One factor that might have influenced this response was the visibility of tutor support, a number of our tutors having a dual role of participant AND tutor.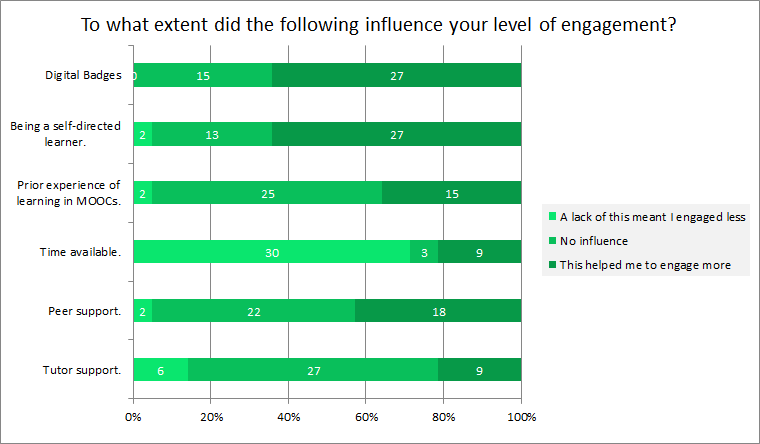 One issue this type of quantitative evaluation has is respondents are reporting level of engagement against a set of predefined factors. So what influenced you level of engagement in ocTEL?